Sample Multi-Frequency Temporal Match Display Screen
---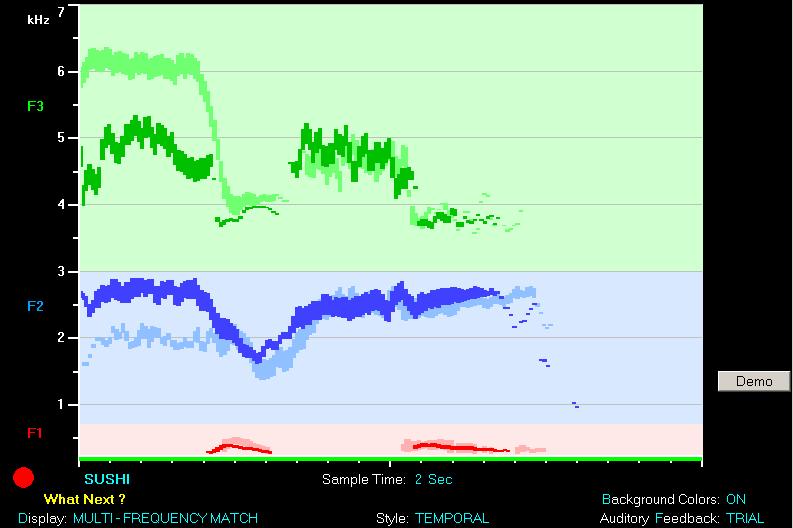 The Multi-Frequency Temporal Match display analyzes speech production and displays the average F1, F2 and F3 frequencies as red, blue and green traces. The width of the trace at any point indicates the frequency strength. The muted traces are the model, and the darker ones the trial vocalization. This display is useful for illustrating high frequency sound differences and helping correct production errors. In the above sample, the target is the word "sushi" and the trial is "shooshi." Notice that the F3 frequencies in /s/ are higher than the F3 in /sh/, and the F2 frequencies in /s/ are lower than the F2 components of /sh/. The time-oriented nature of this display makes durational errors also apparent. Target models can be created directly, or retrieved from a Sound Spectrogram or Multi-Frequency sample.

While there is no scoring in this display, the therapist can manually activate animations to reward good production. There are options for replaying the productions, saving them, and retrieving previously stored samples. Productions can also be viewed and practiced in the F3/F2 Matrix display.
Take me back to the Formant Displays page.
| Therapy Displays | Fun & Games | Applications | Benefits | Reporting | Service & Support |
| Current Releases | System Pricing | Download Demo | Links | Frequent Questions | Video Voice Home Page |
---
Updated 02/19/2018