Sample Fun & Games Screen - Voice-A-Sketch
---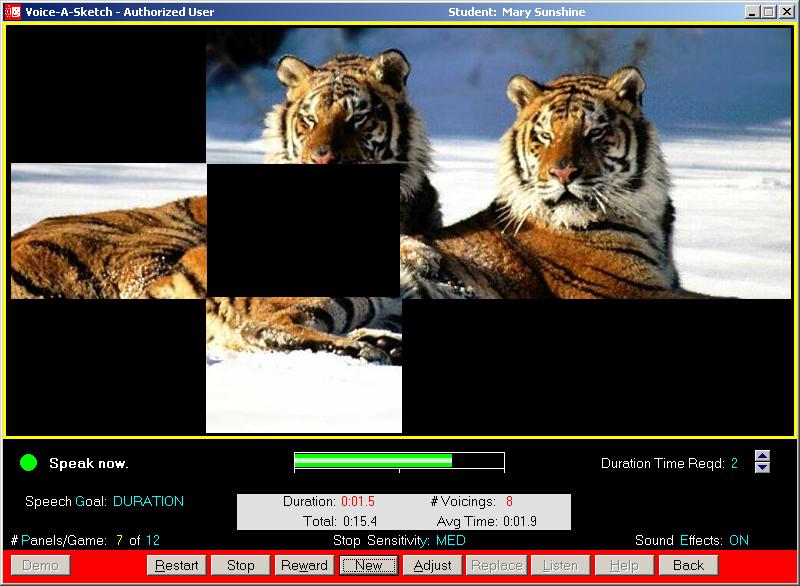 Multiple speech goals make this Fun & Games option especially powerful. The pictures are gradually revealed through a series of vocal productions that meet the therapist-defined objective: onsets, vocal duration, continuous phonation, or articulation of a particular target word or sound. Each vocalizaton which meets the goal reveals a segment of the hidden image. The number of panels per picture can be adjusted, as can other elements of operation. With the Continuous Phonation goal, the picture drops down from the top of the frame during vocalization. If the therapist sets the Fade control to Instant, any break or pause in vocalization will cause the picture to begin disappearing. This strategy can be helpful in working with fluency cases or other speech errors related to breath control. Use Video Voice's many built-in images, or import your own pictures to use images familiar or appropriate to the speaker's interest.!
Take me back to the Fun & Games page.
Show me more Fun & Games screens and therapy applications!
| Therapy Displays | Fun & Games | Applications | Benefits | Reporting | Service & Support |
| Current Releases | System Pricing | Download Demo | Links | Frequent Questions | Video Voice Home Page |
---
Updated 02/19/2018